Refacing Cabinets: Lower cost, Higher design
Last month we were at a design conference and decided to do some bargain shopping at a designer discount store while we were there. We were looking through the sunglasses, picked up our favorite pair, and they were still way more than we wanted to pay. It never fails! If there are 10 choices, we are almost always drawn to the pricier option. Why? Because good design, with good materials, usually has a higher price tag. Does this happen to you, too?
If you've decided to build your midcentury dream house or renovate your existing kitchen, this can be a huge problem! Other than appliances, cabinetry is probably going to be one of your biggest expenses. That's why we're here today-for the work around.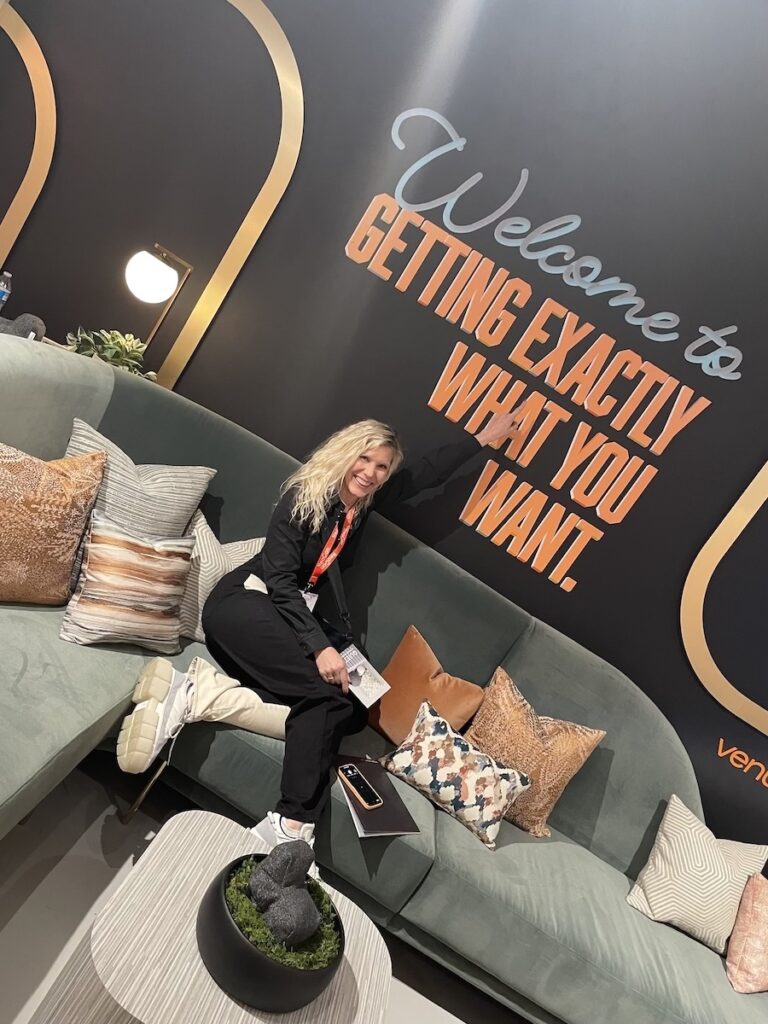 The Base Cabinets
Often our choice, and the one word that people love or loath, IKEA. Some hear IKEA and think cheap, DIY furniture to be bought for, and left, at your college dorm room. Others think of great, affordable design for all. Being of Swedish descent, we are a bit biased, but we can, of course, see both sides of this argument.
As with most things, context is key. On what items do you value top of the line, and on which do feel you can compromise a little? Ultimately, IKEA's original mission was to make quality, well-designed products accessible. We think their kitchen cabinetry is one of the best standouts for value. But how do they keep their costs low? Material, mass-production, and labor.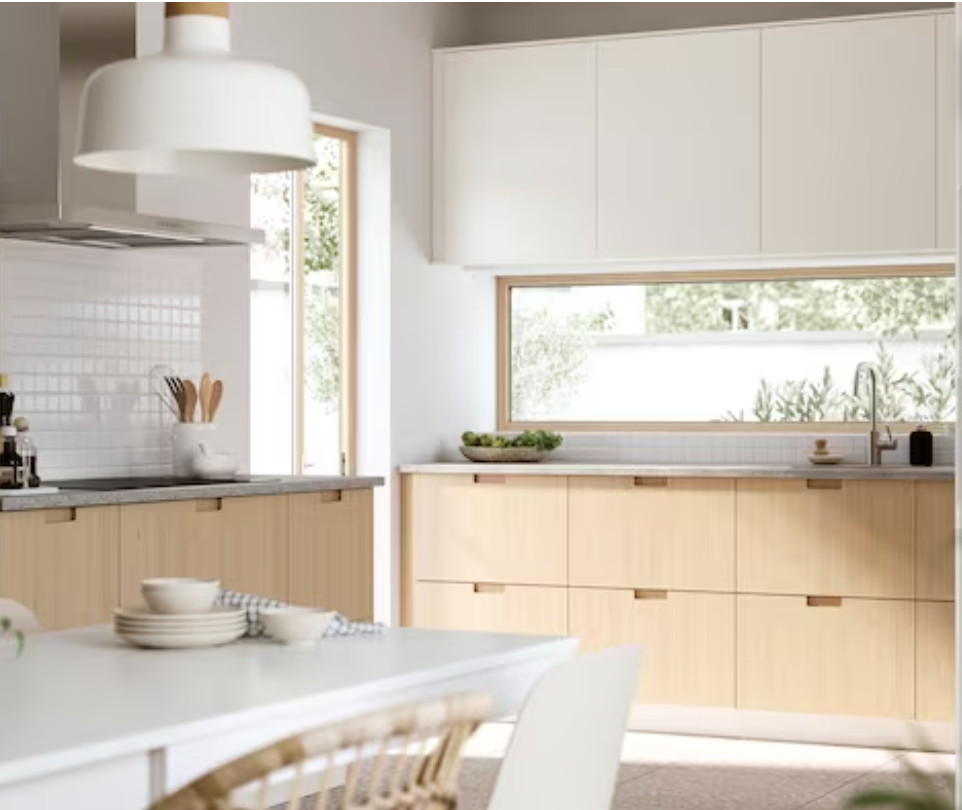 IKEA cabinets are made of engineered wood, usually with a veneer or laminate overlay, and the hardware by Blum ( a leading manufacturer) is very durable. We love that you get pull out drawers and soft-close doors without the custom price.
Mass-production may mean choosing from a limited amount of colors and styles, but as IKEA has such timelessly minimalist offerings, as well as frequent updates to their line, we just don't think this is much of a drawback. As designers, we love that IKEA is completely modular. It's easy to adapt a design, or completely refresh the look in later years.
And lastly, labor savings. The IKEA memes, the L-wrench, the couples therapist, the sense of humor-all necessary friends of DIYer. Or decide this is where you pay for a little extra help-no shame in knowing your limits!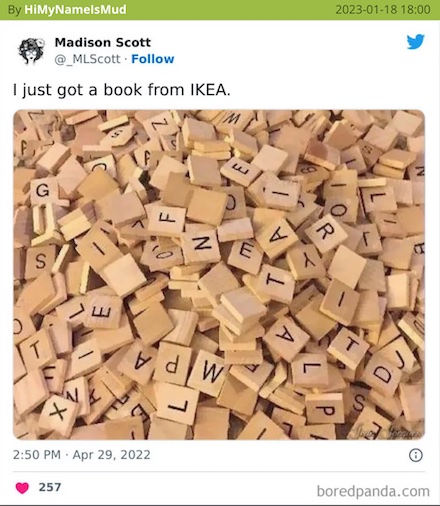 Putting on Your Happy Reface: Our Favorite Custom Door Companies
Whether you've used an IKEA base system, another system, or kept your existing cabinets, that doesn't mean you have to keep to the same company for the doors. Companies are smart; they know it's easier to replace some, rather than all, of your cabinets. Beautiful, custom doors are popping up all over. We chose three to highlight, that specifically offer options perfect for the midcentury-designed kitchen.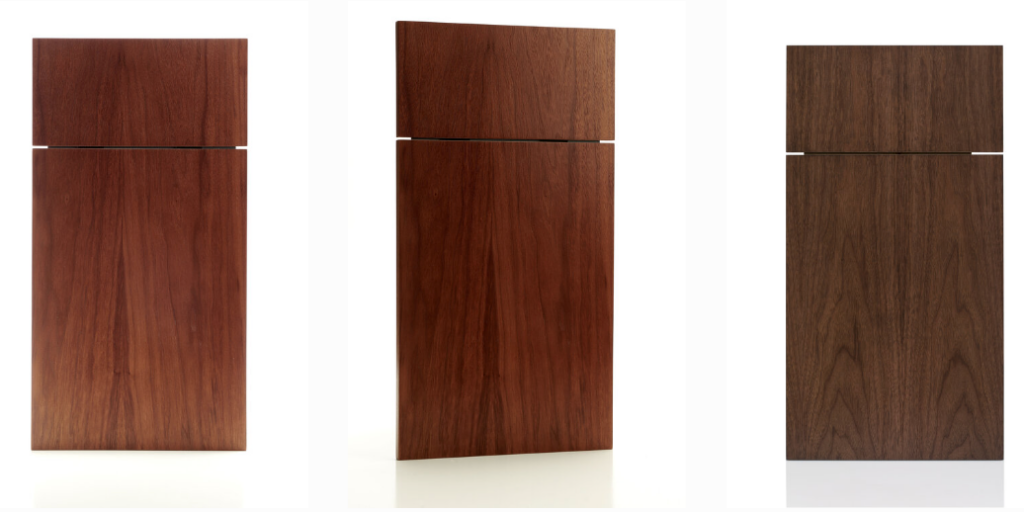 Kokeena: custom doors, front and casework
We love their tagline, "It's Not a Hack. It's Good Design." Exactly. Not only are they custom, but these doors are specifically made to interface with IKEA. Kokeena makes it simple by working directly from your IKEA plans or architectural drawings. Need a custom size or paint match? They will accommodate. And we love their commitment to sustainability. Take a look at their sustainability page and we think you'll agree.
Kokeena has an array of choices. For the MCM kitchen, we gravitate to the Modernist and Ultra Modernist solid-wood styles, but they also offer laminate and painted options. And if you really want to save some money, they offer an unfinished door that can be painted at home.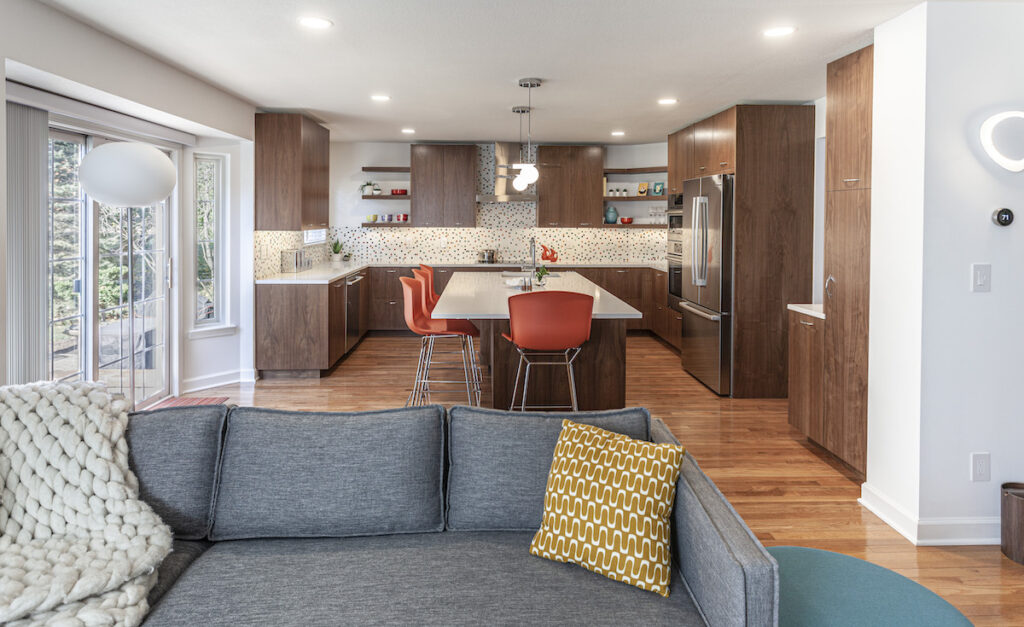 To see more pictures from this project:
Semihandmade: Beyond the Cabinet Door
Since 2011, Semihandmade has been crafting door fronts for IKEA units, but they have expanded their line to include appliance panels, bathroom fronts, glass ready doors, countertops and paintable options. You will also be able to specify if you have the current IKEA models, or older ones, and if you need hardware or pulls. We particularly like the Classic in Walnut and the Supermattte Slab.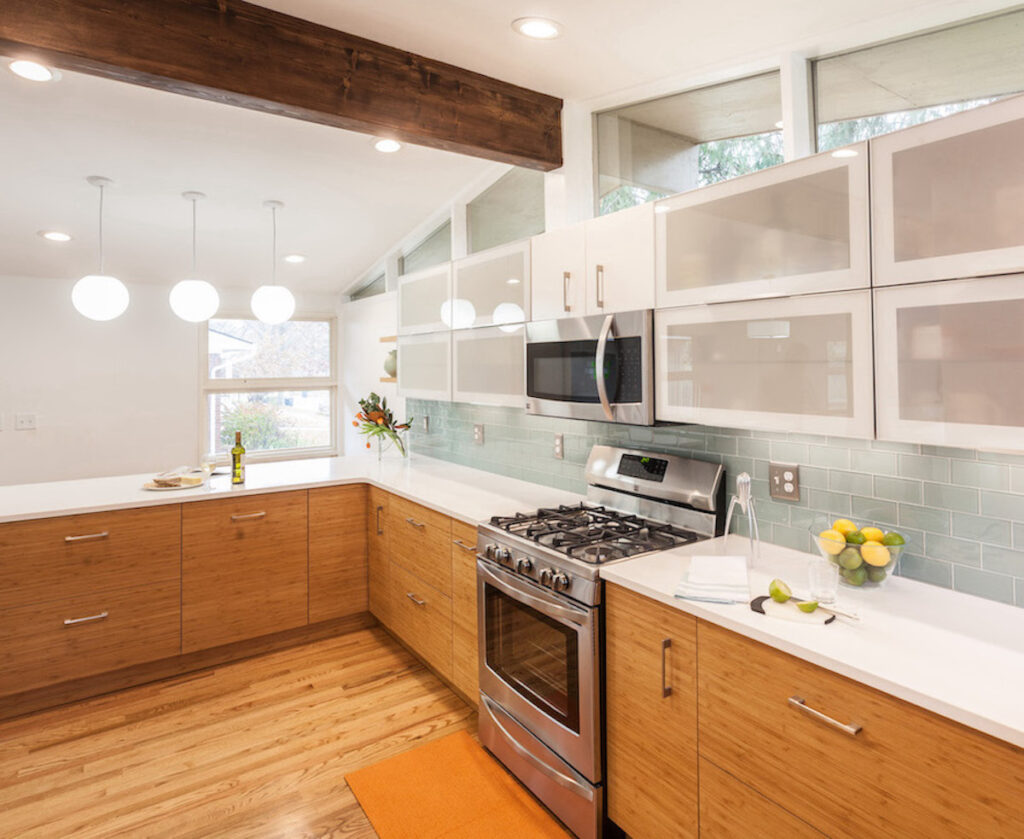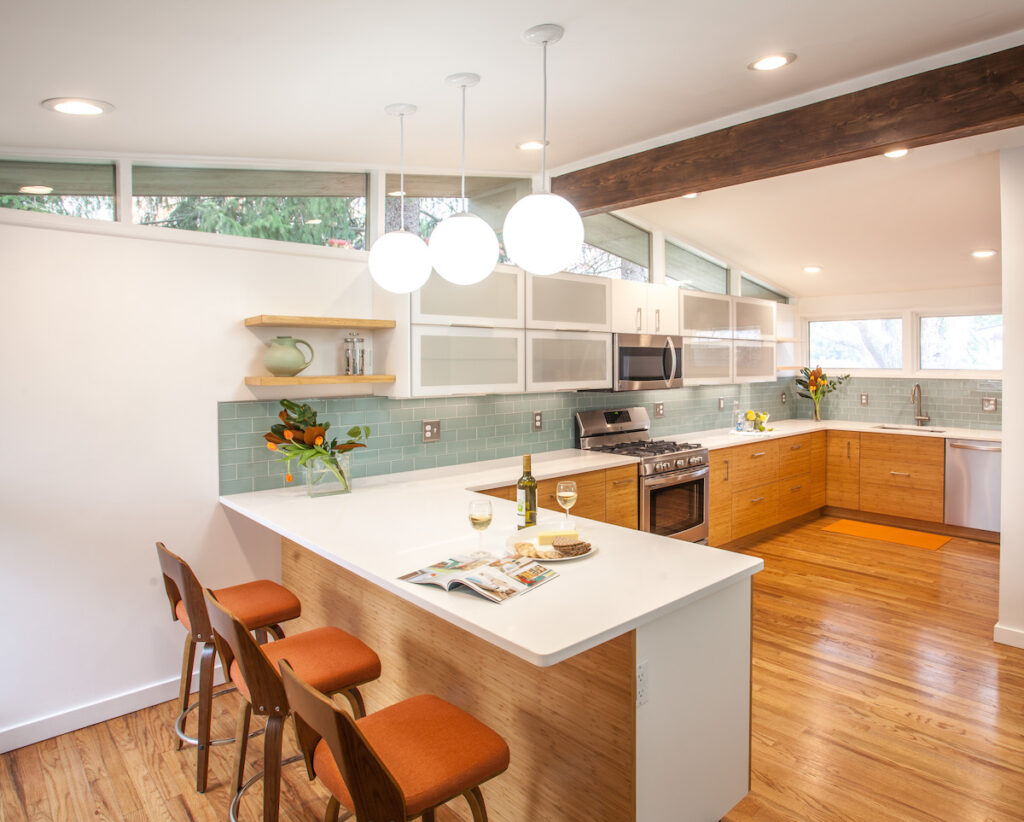 To see more images from this project:
Modern Twig: "Elevate your IKEA"
Modern Twig sells available in sizes ready to fit Ikea's Sektion, Godmorgon, Pax, and Besta cabinets. Below, in the rendering for an upcoming project we are working on, we've used the Wood Veneer line in Walnut. We especially love that the grain lines are sequenced continuously, either horizontally or vertically, to your preference. Those details in a custom door elevate a standard kitchen unit to a beautiful work of art.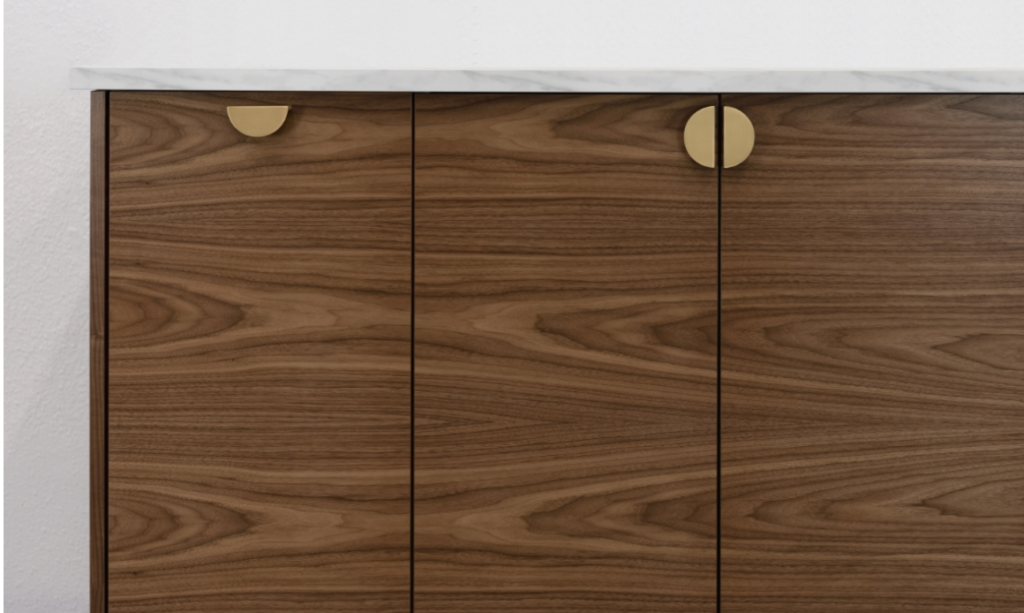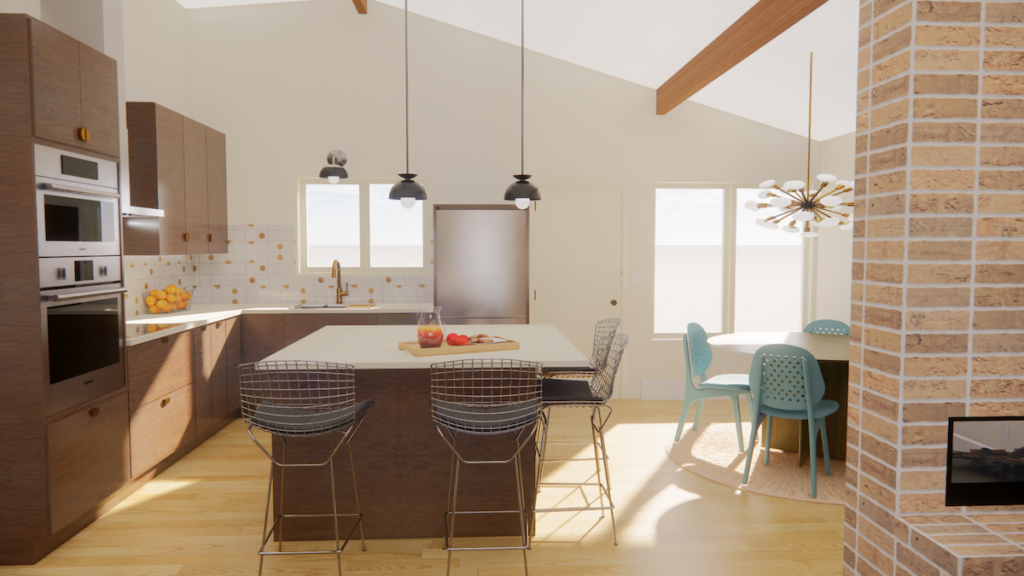 Just as these companies, we believe good design should be accessible to all. If you've been thinking your space needs a fresh look, but are daunted by the price tag, go ahead and send us an email anyway. Hiring a designer is a luxury, we absolutely understand that, but sometimes having a guide can save you money in the long-run. We love the challenge of making the most of what you have available.