Do you want the stylish details of a midcentury home, but also desire the benefits and amenities that come with twenty-first-century construction?
If yes, then you want a new build.
That's just what Elin Walters of Exactly helped this family do for their home in Fenton, Michigan. From start to finish, Elin worked with them to realize their dream of a Brady Bunch-style dwelling.
Midcentury Modern…with the Power of a Fresh Start
Never underestimate the power of a new beginning. We've all felt the energy of a new idea, a new perspective, or a new project. All the possibilities are at your fingertips!
Decisions, decisions…but how to decide? Are you the person who walks into IKEA and feels energized? Or the one who feels overwhelmed?
It doesn't matter which one you are when you have the help of a designer. If a client comes to the table with loads of ideas, a good designer helps refine those ideas into a cohesive design.
But maybe you just have a few ideas and need lots of help—then your designer converses and collaborates until you've settled on a plan that reflects who you are and what you need.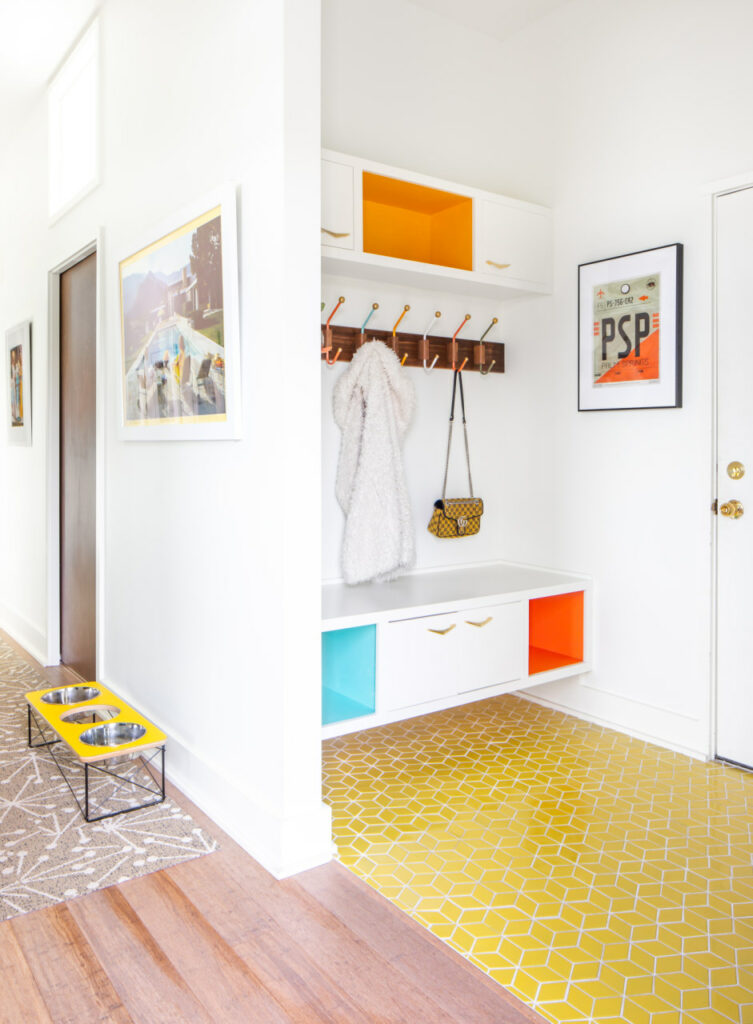 For this fun, retro-inspired home, Elin loved that the owners had previously owned vintage pieces that they wanted to mix in. Outside of that, there was full reign to shoot for the moon with color and pattern.
In a new build, the proverbial '70s avocado refrigerator morphs into the sunny yellow stove. When asked about what she enjoys about renovating an existing structure as opposed to new construction, Elin said:
Renovation requires creativity. You need to be able to seamlessly blend existing and new elements. Starting from scratch requires big-picture thinking and endless attention to detail.

I enjoy being able to work from the ground up to attend to every detail from start to finish; from finishes, materials, fixtures and furniture, to accessories and final touches.
During the build we'll become everyone's favorite—your contractor will love our expertise in everything from finishes and lighting to roofing and siding. Your vendors and artisans will be obsessed with having a reliable narrator who knows how to give direction.
And, of course, you'll get to experience a typically stressful, disruptive process remixed as super fun and creatively fulfilling.
Old Form, New Function
One of the great things about new construction is that it allows you to be inspired by the past, but build for the present.
It's not just what it looks like and feels like. Design is how it works.

Steve Jobs
I bet we have all lived or worked in spaces that were beautiful but functionally frustrating. Why is the sink over there? Why does this wall only have one outlet?!
This is precisely why a project from the ground up is so satisfying; control of form and function simultaneously allows you to create a space that feels right, looks beautiful, and works.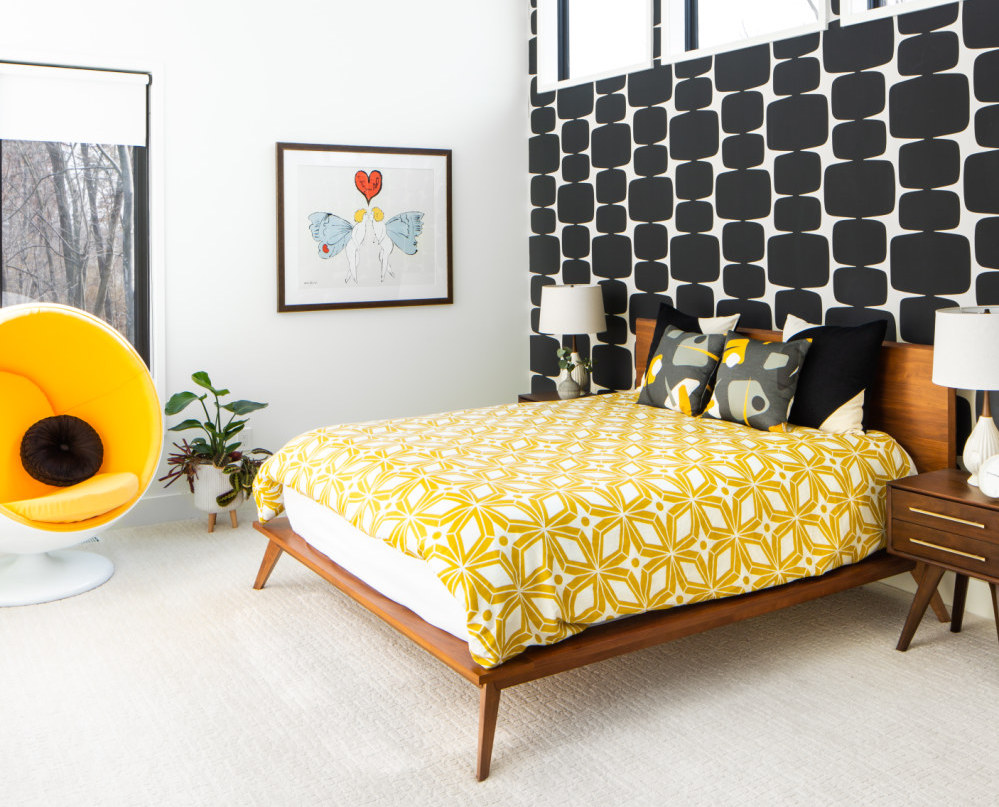 You'll notice in this project that the angles stay true to a midcentury home, but the proportions are more au currant. A bit more space, a layout more satisfying to your social style, room for a king-size bed, a bathroom that easily holds two—all things that a new build gives you easy access to.
But again, it's all in the details. One of the hallmarks of a mid-century designed home is its purposeful design. As you walk through this house you'll see the repetition of bold patterns, fresh colors, and a feeling of flow from one room to the next.
This Fenton, MI project by Exactly was featured in the September issue of Atomic Ranch. To read the full article, with even more images from the project, click here.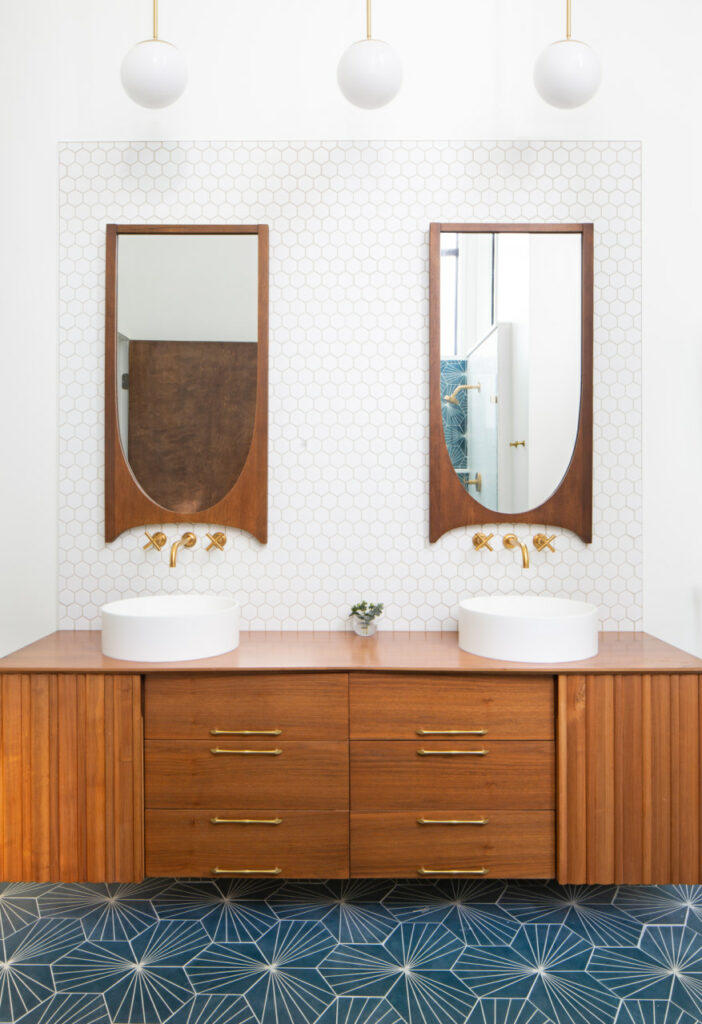 Interested in discussing a new build or other projects? Exactly is always here to chat!
Photography: Diana Paulson