Is it possible to be a maximalist AND a minimalist when designing your home?
Can you have less and more at the same time?
Yes, absolutely! In a world where you can be anything, why not be both? Striking the right balance is the key. What is minimalism, you ask? And maximalism? Let's find out…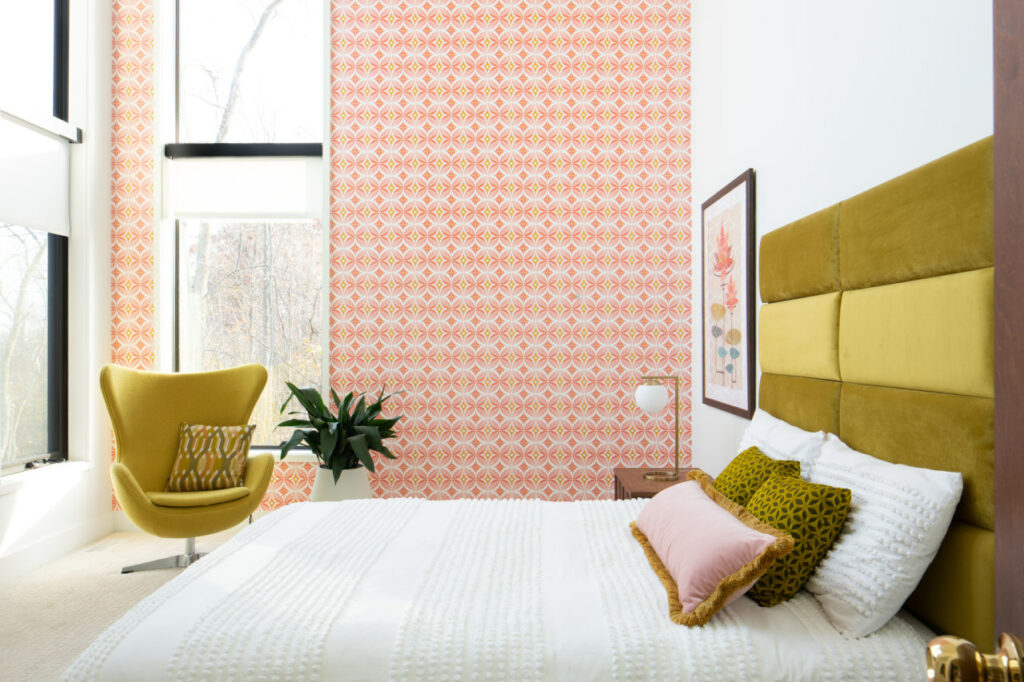 Minimalism in a Few Words
Whether as a lifestyle or a design concept, the tenets of minimalism are the same. In a nutshell:
Be intentional
Do more with less
Minimize distractions
How does that translate to designing your home or business? Take a look at this midcentury nursery designed by Elin Walters of Exactly, a Michigan interior design company.
By talking with the homeowners, Elin was able to translate their dreams for the nursery into one cohesive design.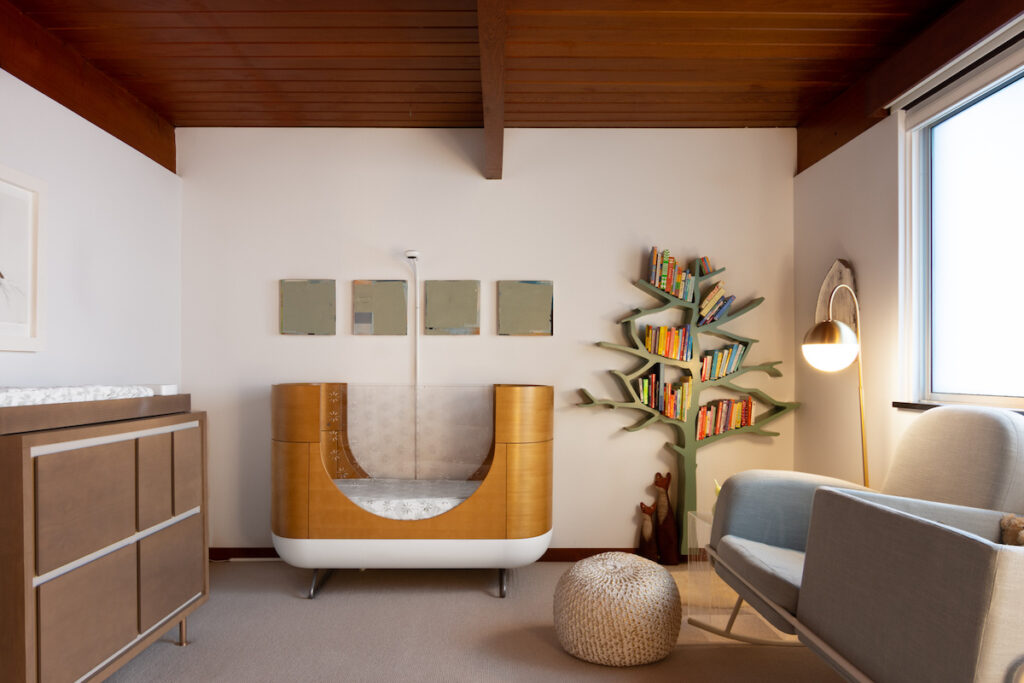 Be Intentional
Design the space for the audience. For this stage in their child's life, the parents wanted just the essentials—a warm, calming space for naps, bedtime, and reading.
More with Less
Every piece of furniture is functional, but with an emphasis on beautiful form. The geometry of each piece allows for a visual punch, but the soft colors and warm wood tones create the calm the clients wanted.
Minimize Distraction
The last thing a parent wants is to entertain a sleepy baby, so objects and decorations were kept to a minimum. The large window with natural light means harsh, too-bright overhead fixtures are not needed.
Instead, the glow of an arched floor lamp creates the perfect spot for a book and a snuggle.
Maximalism in Slightly More Words
In design trends, maximalism is having a moment. Just like the name implies, maximalism is more with more. More color, more texture, more pattern, more stuff!
It's a complex, layered creativity that often correlates with times of economic prosperity. With more money and free time, we travel more, collect more, and naturally want to share those things with others by displaying them in our spaces.
Victorian homes are a classic, traditional example: patterned wallpaper, embroidered cushions, layers of fabric curtains, and shelves filled with curios.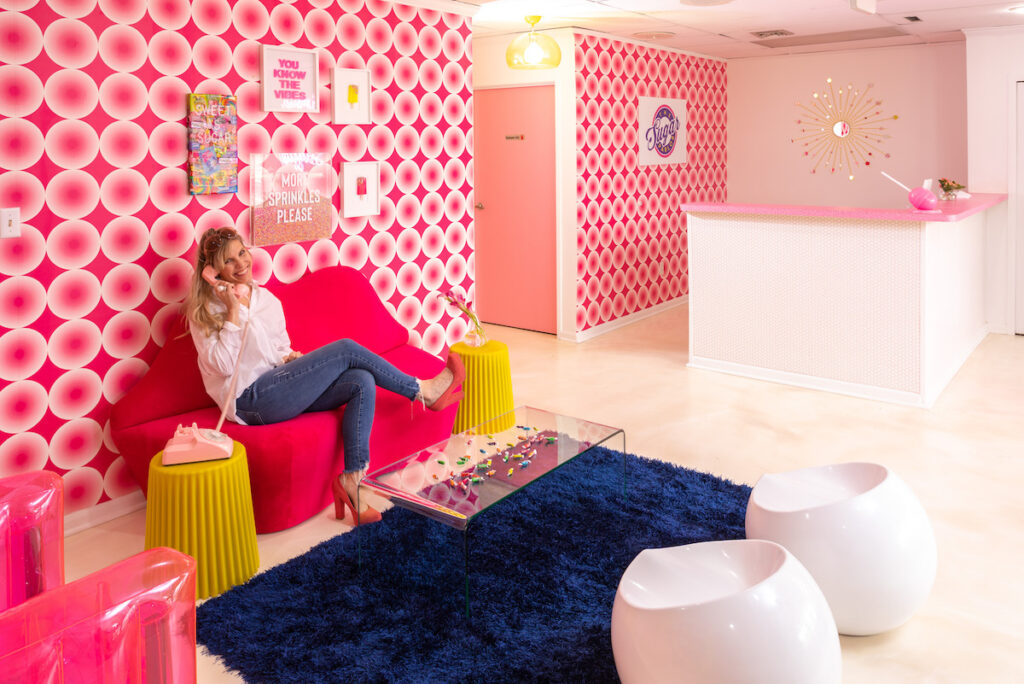 Exactly used the maximalist approach in this commercial space design. See how your focus pings around the picture like an eye-spy game?
Yellow cupcake stools lead your eye to the yellow light fixture, artwork, and clock. Layers of pink in the wallpaper coordinate with the splashes of color in the countertop and doors.
The great thing about the max attitude is that there really are no rules. The overall effect is bold and joyful. A good designer knows how to balance the overall effect so that you can have an over-the-top feel without it being chaotic.
Do I need to worry about design trends?
So if maximalism is "in", is minimalism "out?" We don't think so. Sure, design has trends, but really, design of any kind is a big loop of subtle reimaginings.
Take jeans for example; every year we get an updated version of a jean from a previous decade. This year, it's the high-waisted mom jean, but I hear the ultra-low rise is coming soon. Ugh. Can we please leave that one in 2001?
The best thing about all this recycling and reimagining is that it means we now have options!
You have the option to be an everything-is-white minimalist in your midcentury modern kitchen and a bold, mixed-print maximalist in your midcentury modern bathroom. Want that clean, open shelving in your kitchen with bright, bold dishware to make it pop? Yes!
Midcentury modern interior design is flexible enough go in either direction.
The key is in the planning and the intention. And with any good plan, you have to know what you want. If that sounds daunting, hiring an interior designer is key.
How Exactly Uses Midcentury Modern Minimalism to Max Effect
Based in Ann Arbor, Michigan, Elin is a full-service designer of midcentury modern interiors. She specializes in intentional spaces with a touch of whimsy. Elin excels at designing spaces that reflect her clients' tastes because she sees redesigning your home as a collaborative effort.
Being able to listen to a client's vision, then refine it for that balanced mix of minimal and bold is her expertise.
Elin has impeccable taste and utmost professionalism. Although her personal style is modern, chic, and clean, she is incredibly versatile and open-minded, able to translate clients' desires and visions, whatever their style preference, into coherent, fabulous design.

Suzanne C. / Client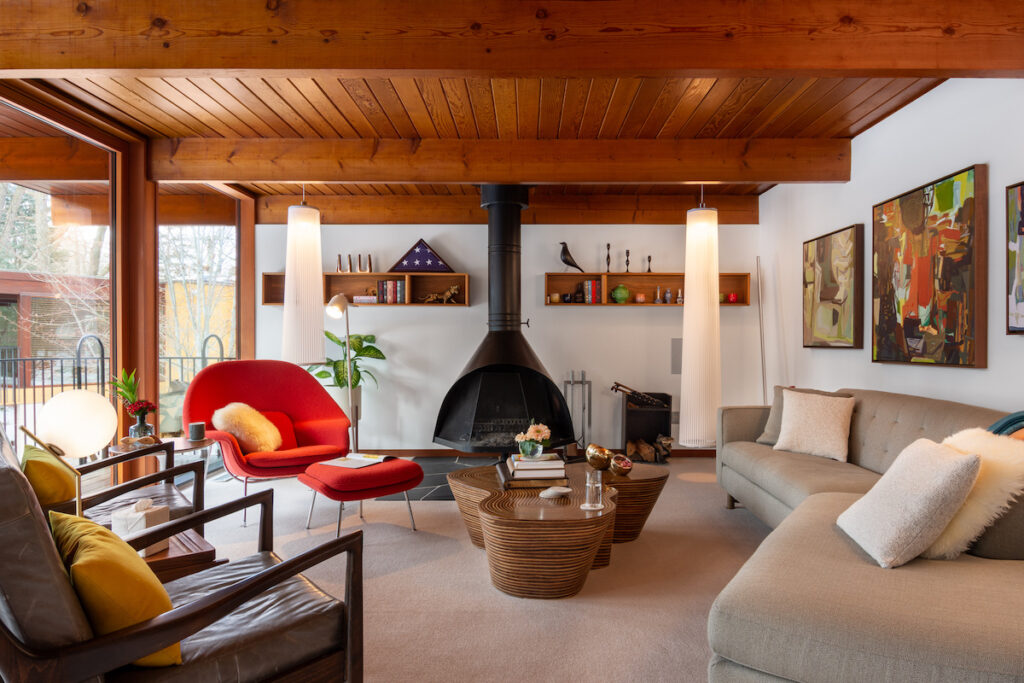 Note how this living room is ripe with color and form, but no one element takes over. Personal items and artworks are highlighted by similar coloring in the new, mid-century furniture.
The rich wood, tongue-and-groove ceiling balances the abundance of natural light. A low ceiling is made more spacious with tall, vertical lighting to accompany the vintage fireplace.
In this bathroom Elin designed for a Michigan MCM home, repetition is everything! As your eye roams down, note the scalloped edges of the oak leaf wallpaper, green tile, and counter drawers; the gold highlights of the wall, fixtures, and flowers (bonus if you spotted the yellow dress in the reflection, too!).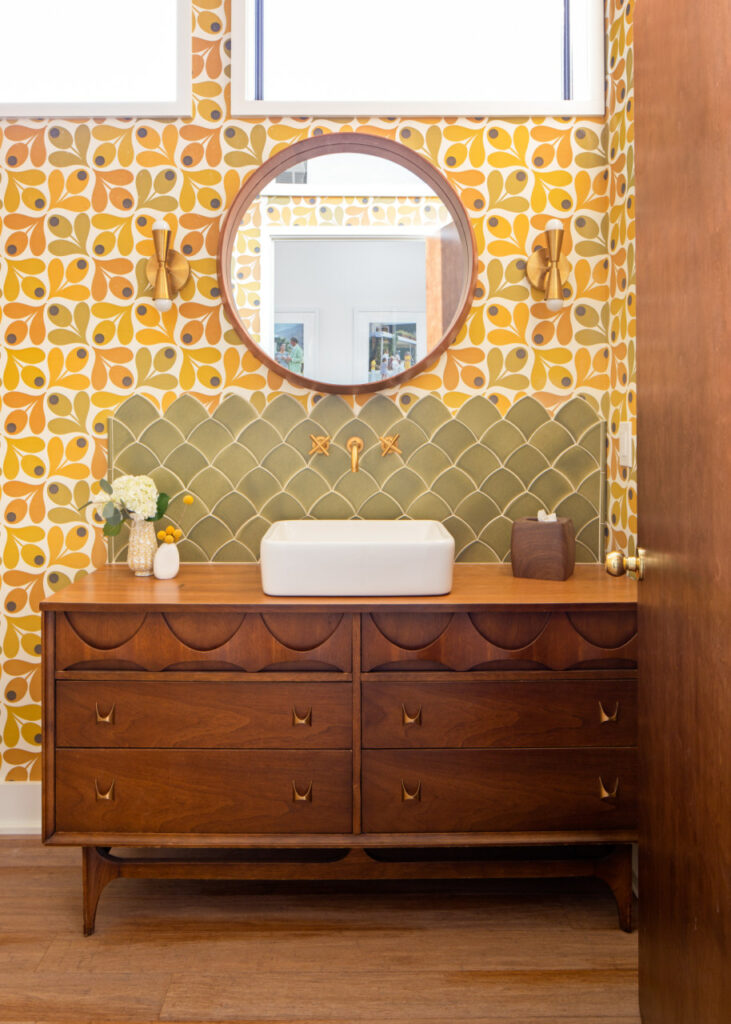 As well as seeing your space and hearing your needs, Elin likes to see a few of your favorite things. But how to choose?
---
Pro Tip:
Whether your goal is to keep things simple or really turn up the max-factor, start with one item you absolutely love. Use it as your first building block. What else can you bring into the space that works with that one item? Color? Form? Pattern? I got you if you are stuck! 😉
---
What kind of midcentury enthusiast are you? Minimalist? Maximalist? Not sure? Whether redesigning one room or starting from the ground up, all good projects start with a conversation.
Ready to talk about your next design project?
Yes, exactly.