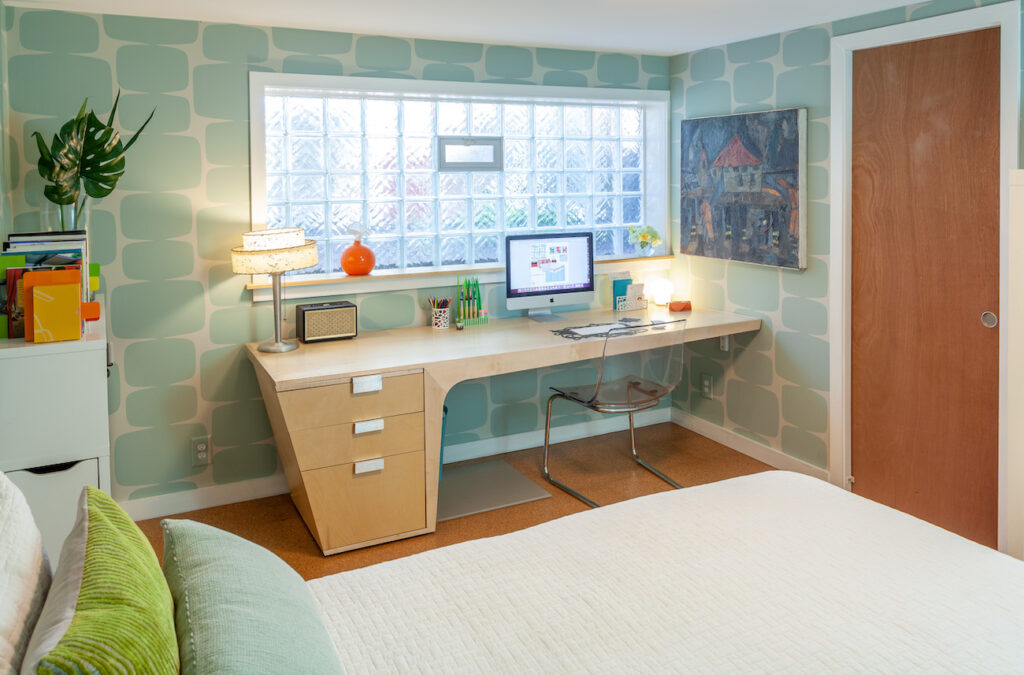 Defining Vintage, Retro, and Modern
Just look at Etsy and you'll see these terms bandied around everywhere, but what is the difference, really? According to BobVila.com (good old Bob Vila), the correct definition of antique is any item over 100 years old. Vintage in its simplest meaning is "of age," but usually a vintage item is over 20 years old, but less than 99 years old. Retro means a newly made item that mimics a design of an earlier era. Modern is a more encompassing term because it includes multiple styles beginning in the 1920s and continuing through the mid-century. It refers to the simple, clean, monochromatic look that came out of the early 20th century industrial age.
Strictly speaking, in a midcentury home, nothing would be antique yet because we haven't quite hit the 100-year mark from production of these items. But plenty of designs will be available in both vintage and retro forms. Take this Eames lounge and ottoman: one is vintage (original production), one is retro (mimics the design), and one is original design, but newly produced. Can you tell which is which?

Left: Vintage Original @($10,000-35,000)
Center: New on Herman Miller site: @ ($8000)
Right: Retro reproduction on Amazon @ ($600)
One of the perks of designing your home in the midcentury style is that you might just be lucky enough to still find vintage items with an affordable price tag. Maybe not this Eames chair, but there are plenty of lesser known designers with amazing style. So, where to find them?
Sourcing Vingage Items
Because our parents were antique dealers and we had a mom who loved to thrift, this is an easy one for us. One advantage of using vintage pieces in your home, as opposed to retro ones, is that your house will be more unique. Mass production can be great and affordable, but it also means more people have access to it. If individuality is important to you, than hunting up those vintage pieces may be worth it to you. Here is a quick breakdown of our favorites-some you might have thought of, some maybe not.
Auctions/Online Marketplace
Depending on the auction, this can be high-end originals from the famous auction houses or need-a-little-love pieces from a local auction house. Do a quick Google search for "furniture auctions near me" and you might be surprised what comes up. My search resulted in more than 20 within 25 miles of me! Online auctions are always an option too. Check out hibid.com, Live Auctioneers, Ebay, Craigslist, Facebook Marketplace, Instagram, 1stDibs and Chairsih. On many of these sites you can filter by price and save yourself a lot of time looking at things you can't afford. Make sure you know return policies, too. Buying sight unseen is always a risk you take.
Your Grandparents
We can't tell you how often we hear, "My grandma had one just like this!" Seriously, if she still has it, ask her to trade you! A lot of the older generations who grew up with midcentury furniture don't find it as aesthetically pleasing as the younger generations now do. To many of them, it's just everyday furniture. Maybe your grandpa would enjoy a new chair and you can score a vintage family heirloom.
Etsy
We do plenty of sourcing from Etsy for both vintage and retro pieces. It's great for retro prints to frame and textiles. One of our favorite things about Etsy is that is is a platform for furniture makers. We especially love supporting these small businesses and craftsman. Many of them offer designs that can be made in custom sizes or finishes so that it's just right for your space, and at very affordable prices. It's also a good place to find replacement pulls/hardware for cabinetry or furniture.
Something to watch, though, is that the terminology of vintage and retro is often misused, so if that matters to you, make sure and clarify with the seller which you are receiving. Again, it's a good idea to check the return policy, damage policy, or insurance options, as well.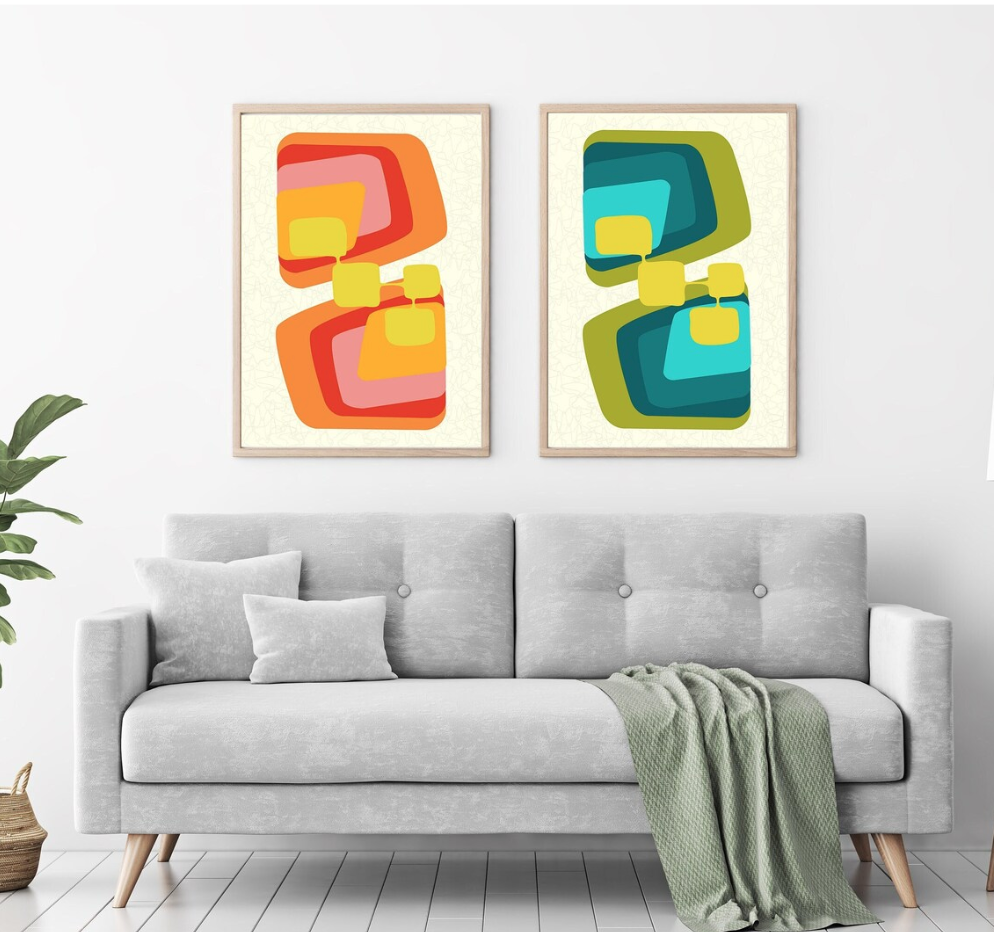 Thrift Store
If you like the thrill of the hunt than this your place. The trick is to go often and go to many stores. Once in while you'll luck out and find furniture, but most often this is where you'll find glassware, vases, lamps, sculptures or general kitsch, if that's your thing. Some stores have caught on to the midcentury trends, but most likely this is where you'll find your best deals.
Garage Sales
Again, this takes commitment and a big enough car for hauling away your prizes, but offers a huge potential bang for your buck. Quick tip: search your area for neighborhood or annual garage sales to save time driving around. Many retirement villages (with those midcentury items!) do this.
Art Fairs/Craft Shows
"Craft" is a term that means any variety of things these days, but these events are often a mixture of vintage and retro items. If you live within driving distance of a major city with one of these events, it may well be worth your time. Some events even offer previews of what will be offered, so take your time looking at the online presence of participating vendors. Just getting a feel for their style will help you decide if it's worth the drive. But come prepared. Don't have a truck? Ask a friend who does to go with you, or rent one for the day. Bring boxes, packing material, blankets or anything else you might need to make sure your items make it home unscathed.
One of our questions for each client when we begin a project is, "What items, vintage or retro, which you already own, do you want to be part of the new design? Creating a cohesive look, and keeping it uncluttered, is our specialty. If you want more tips, come back for our next blog on how to style your vintage or retro pieces. Don't want to do it yourself? Let us help!
Let's finish with a fun game of "I Spy." Can you spot the vintage (or original to the house) items in this Exactly. project? This client loves vintage and had a large collection ready to incorporate into the design.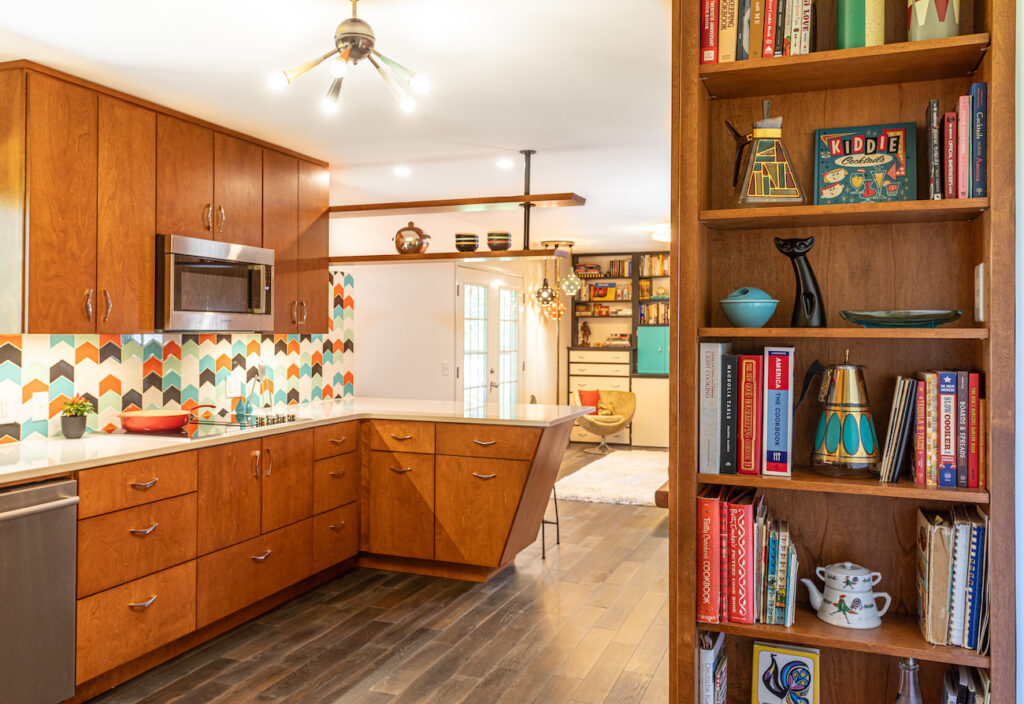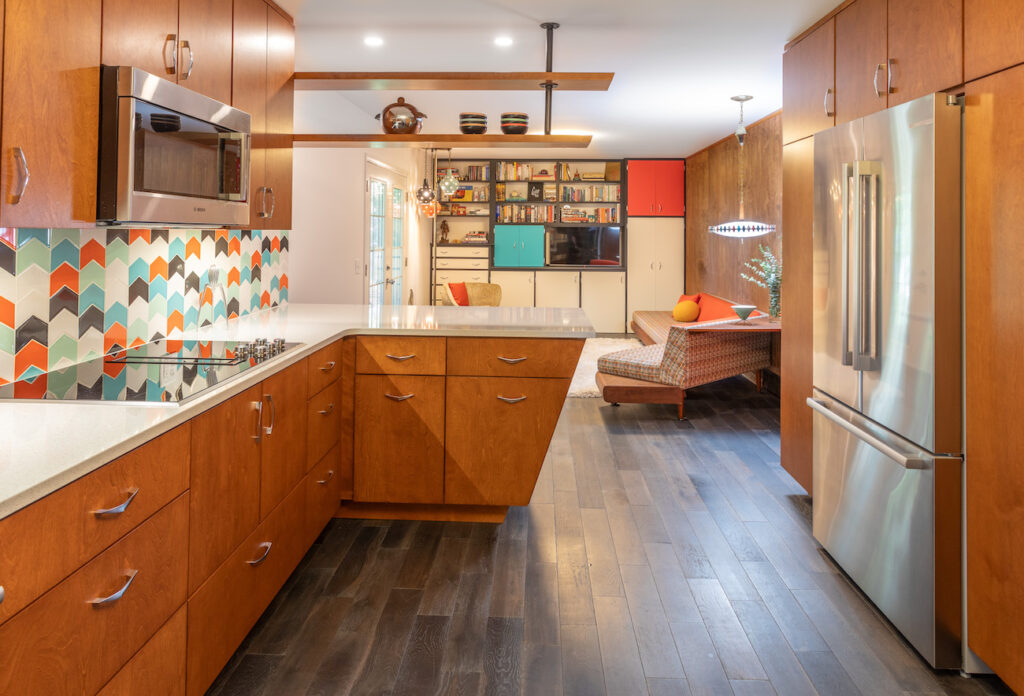 How many did you find?
On the shelves in the kitchen and living area: ALL of it is vintage!
Kitchen cupboards and pulls: new custom designs
Kitchen stools: vintage
Ceiling light: vintage, but not original to the house
Couch and lounge chair: vintage pieces with new upholstery and pillows
Pendant Lamp: vintage
More…
If you want to see more of our projects that blend vintage into new designs, check out these link to our project page.
Not sure if vintage or retro is your thing? Take our quiz on the home page and find out just what type of midcentury modern style you really are.
Happy hunting!