Mid-century modern design, AKA MCM or MidMod, is definitely still having its moment to shine.
If you've made it to the Exactly site, you are probably already a fan of the look. But what makes a building or piece of furniture part of the timeless MCM style?
TL;DR ("too long; didn't read"'" if you are over 45—haha!)
Streamlined
Organic forms
High functionality
Sound like your style? Read on!
But first, a little history!
Whether you're a fan of MidMod design or Scandinavian minimalism, it can all be traced back to the Bauhaus school of architecture from early twentieth-century Germany, and to the International Style movement happening also in Europe circa the 1920s.
In a historical context, this is when industrialization was on the rise and many people were fleeing Europe to come to America. Architect Walter Gropius, the founder of the Bauhaus school, was frustrated that industrialization was promoting function over form. His mission was to balance the fine arts, such as painting and sculpture, with the applied arts of furniture and architecture.
The basic tenets of Bauhaus will sound familiar to the MCM enthusiast. They are:
Functional Shapes (geometric)
Simple Color Schemes (with pops of color)
Industrial Material (glass, metal, concrete)
Balanced Asymmetry (our favorite!)
Holistic Design (cohesive look)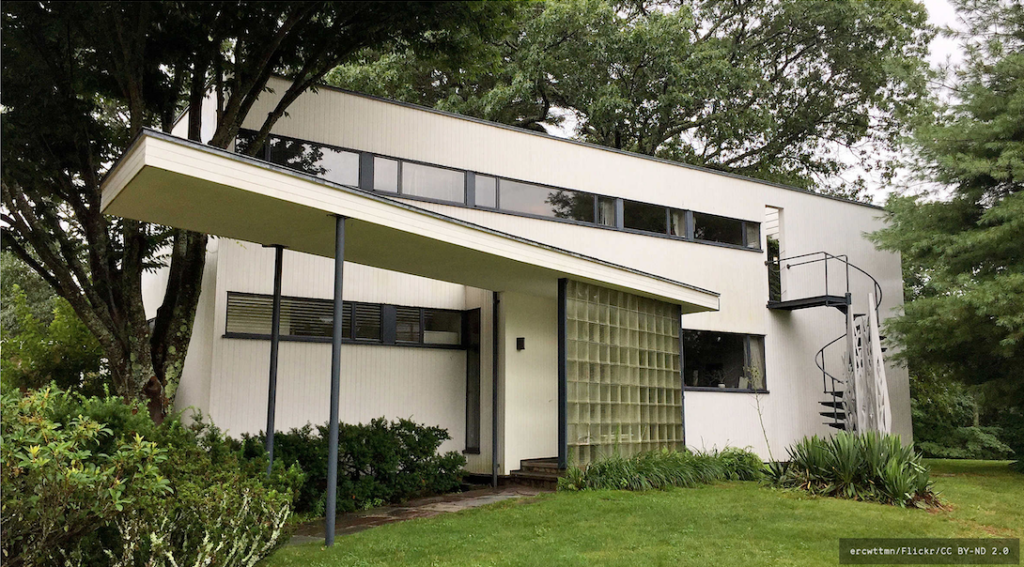 Which leads us to…
Mid-century! The design era from 1945-1969, mid-century modern is a term first thought to be coined by author Cara Greeburg in her 1984 book Mid-Century Modern: Furniture of the 1950s.
Expanding on the styles of the previous decades, form is now function! Along with the new decade, came new technologies. In addition to the concrete, glass, and metal of Bauhaus, there was now fiberglass, resin, laminates, and plastics.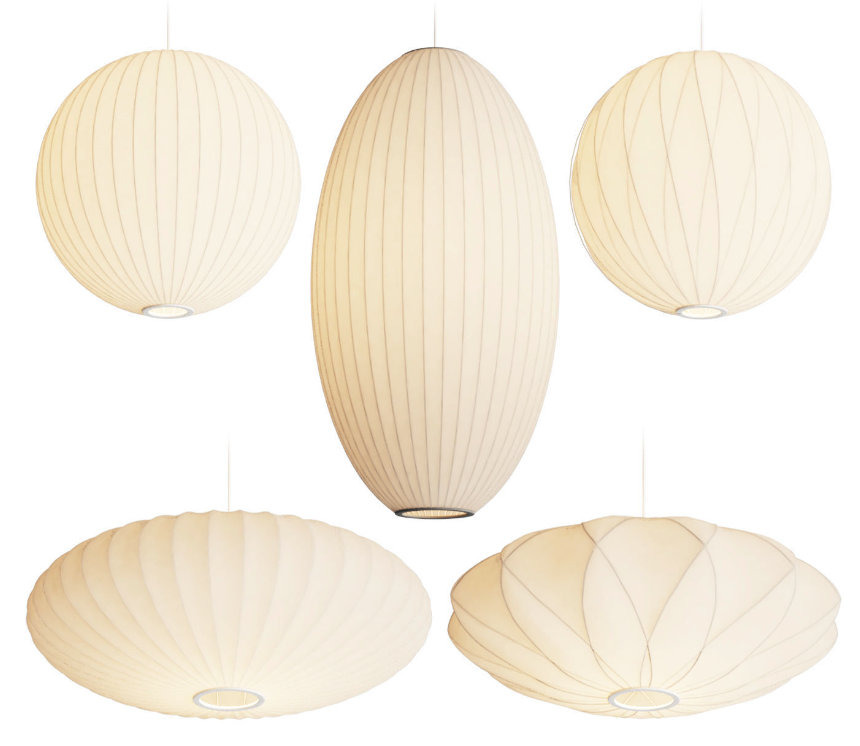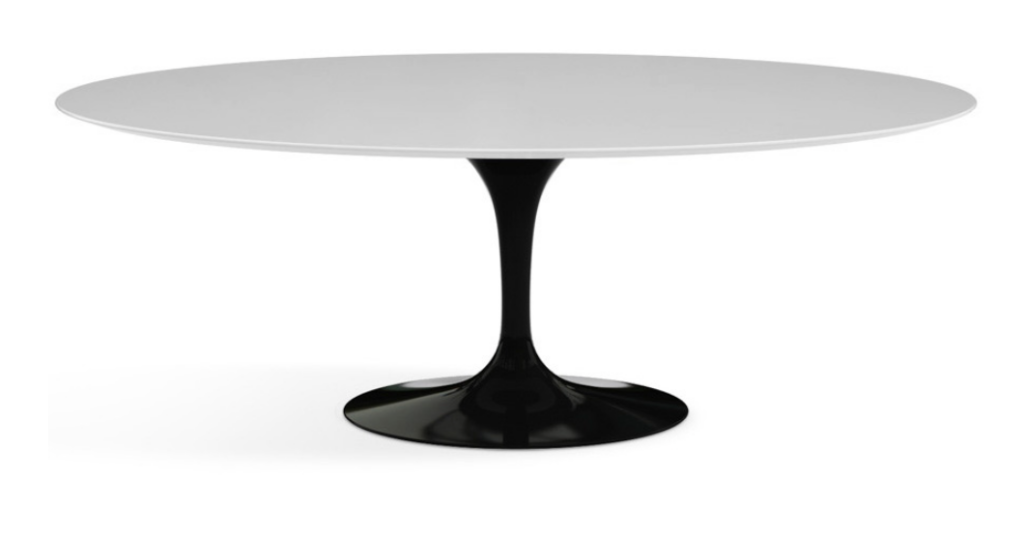 From the Outside
The height of the Baby Boom is happening, with families moving to the suburbs and living in smaller spaces. It is the age of economy; gone are the embellishments of previous eras.
On the exterior of houses we see design is now all about the angles. One of the quickest ways to identify a MCM home is by its roofline. With great names like Butterfly, Swiss Miss, and Hyperbolic Paraboloid, you know it's gonna be interesting!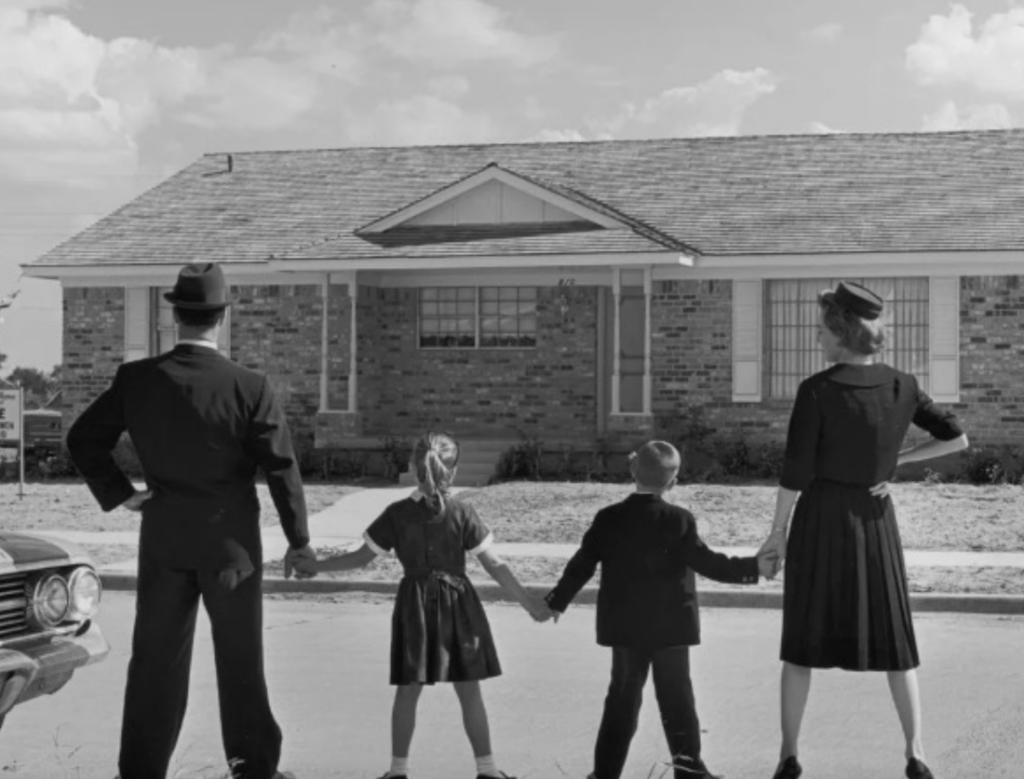 You'll also notice linear windows, recessed entries, picture windows, and asphalt tiles. Construction varies between stone, brick, stucco, and wood siding.
Check out this great little roof cheat sheet for the next time you're exploring an MCM neighborhood.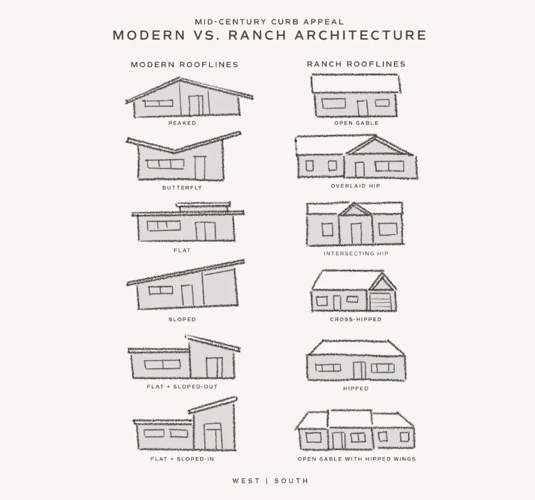 One of our favorite examples (with ALL the angles!) is this work of art in Midland, MI. If you're an MCM lover living in the midwest it's a definite must-see! The Alden B. Dow website is also a great stop for Mid-century history and appreciation.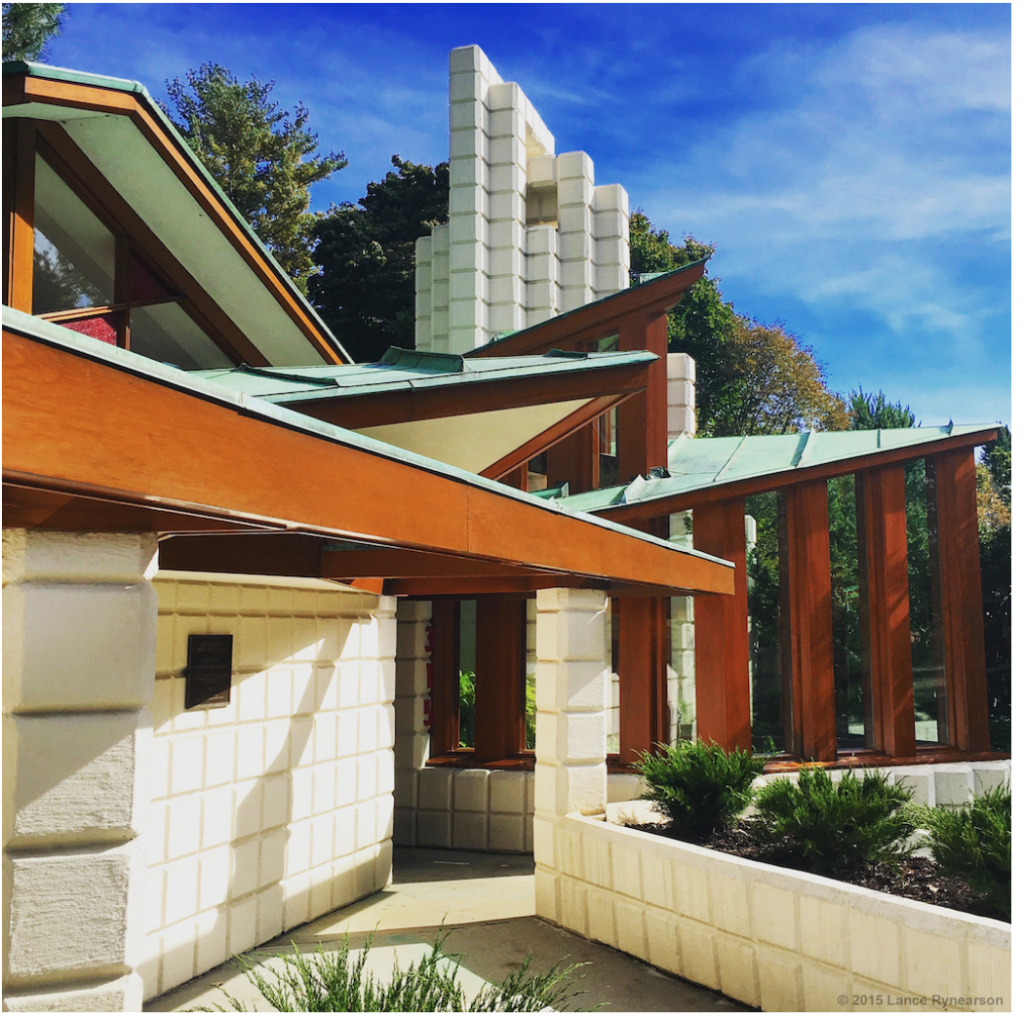 …and on to the inside.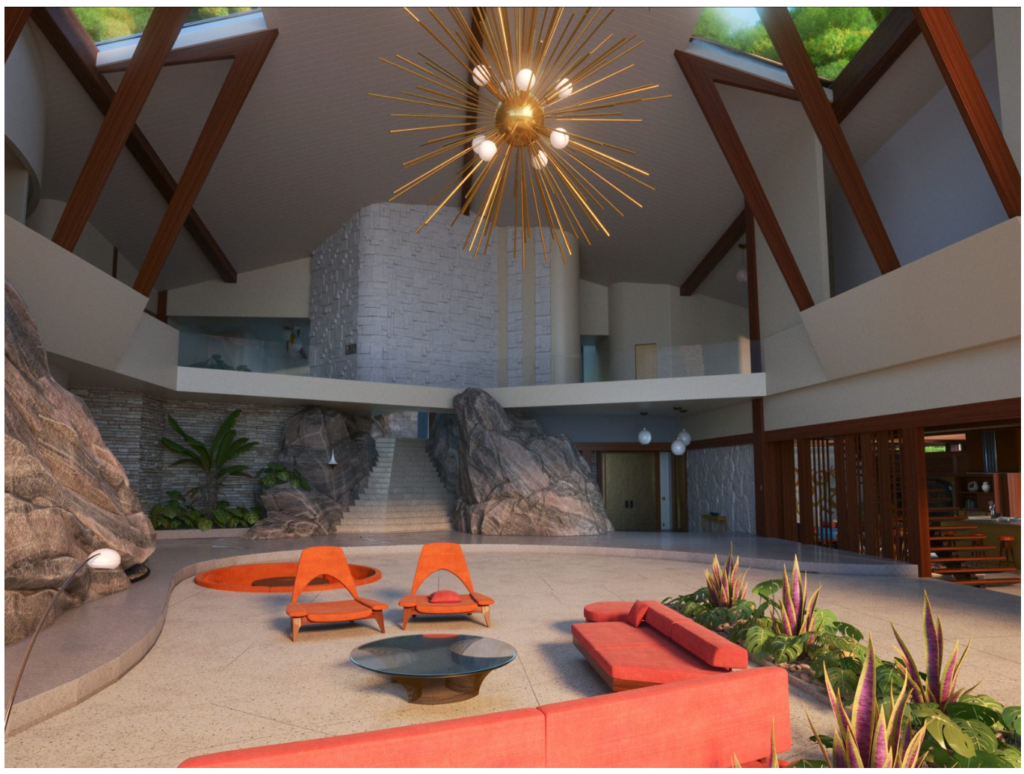 Characteristics of mid-century modern interiors include:
No Embellishments (bye-bye crown molding!)
Simple Furniture
Natural Light
Organic Shapes (remember that Egg Chair?)
Form Blended with Function
Bold Pops of Color
Natural Materials (wood, stone, brick)
Already loaded with natural light, Elin Walters of Exactly added sunny colors and a classic Sputnik chandelier to complement this cheerful MCM dining room (left).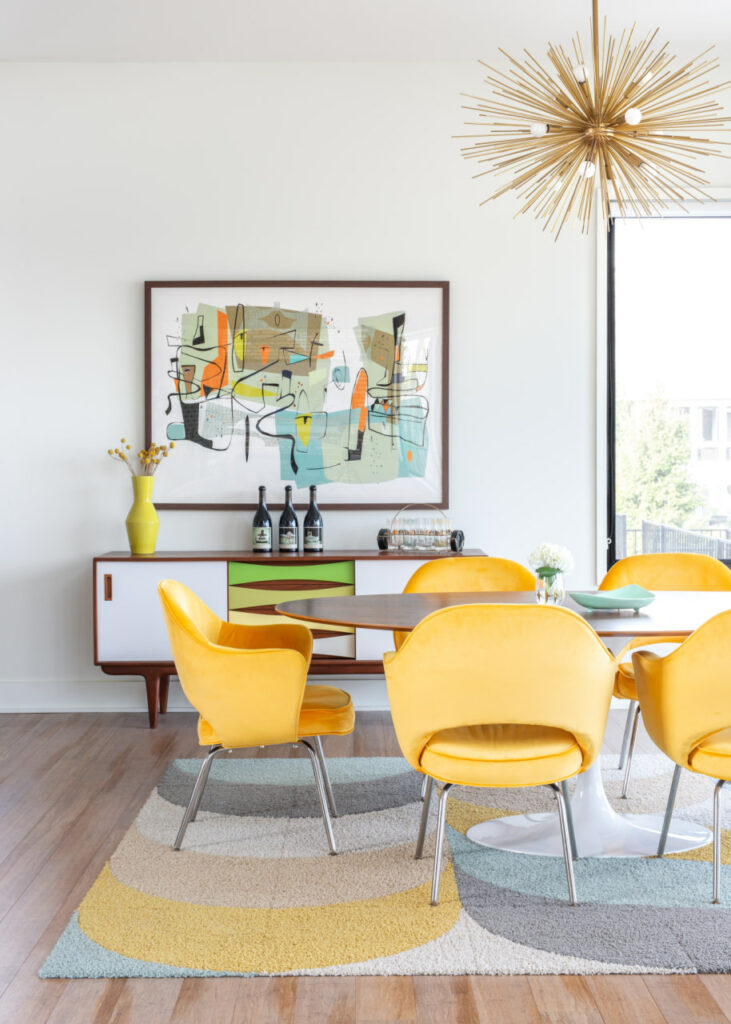 Elin proves that concrete can be warm when paired with warm, earthy tones in this Ann Arbor, MI Mid-century home (right).
With natural wood paneling, organic shapes and textures, neutral colors, and pops of pastel, this bedroom designed by Elin Walters of Exactly creates a cozy oasis.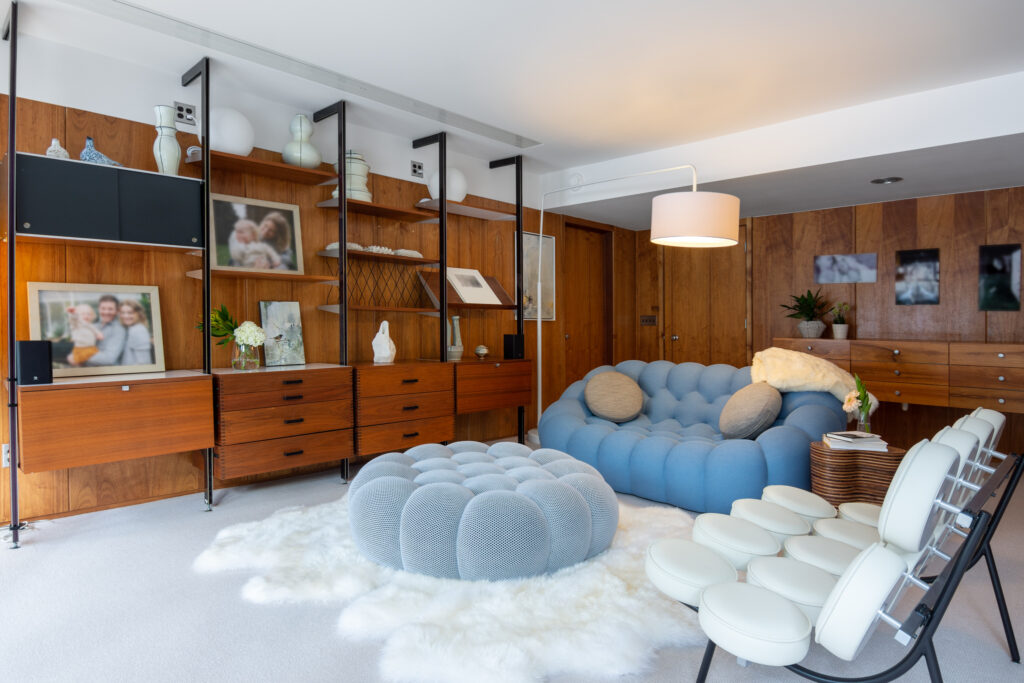 If you want to see more from us, read the Atomic Ranch feature article (cover shot too!) here.
Now for the fun part!
Do you have a mid-century home you'd like to spruce up? Or maybe you want to build your dream MCM home? You might be considering hiring an interior designer, but also wondering just what they will help you with.
Some of the main benefits of working with a designer who specializes in mid-century design are:
Help with identifying original MCM elements in your existing space.
Determine what can be restored and preserved.
Can seamlessly incorporate modern updates to create a more usable space for today's needs,
Can mix modern and vintage elements in a way that looks natural.
Can guide contractors in carrying out the intended MCM design.
You might have noticed that there is no one way to do mid-century. The MCM era spanned several decades and, therefore, has a range of characteristics.
What's YOUR Version of Midcentury Modern Style?
Our quiz is a great place to start defining what type of midcentury style you prefer. We classify four different ways here at Exactly:
Palm Springs Pop
LOTS of room to play- fun, a bit over-the-top, but keeps those clean lines and vintage appeal.
Midcentury Transitional
This is well-appointed comfort. Keep those traditional MCM elements, but add modern functionality.
Emphasis on the Modern
Keep those clean lines! Focus the eye on bold, colorful art and keep the rest modern.
Preservation Purist
Honor the era with classic layouts, sculptural furniture, and sourcing from names like Eames and Knoll. Make those OG Midcentury designers proud.
Not quite sure which one fits? We're always here to help!…
TAKE THE QUIZ

---
Ready to talk about your next design project?
Yes, exactly.
---